Projects & Exhibits
Upcoming Exhibits and Shows

May 1 - 30, 2015
Opening Reception - May 1, 6 -9 PM
"Carolinas Got Art" Juried Group Exhibition
Elder Art Gallery, 1520 South Tryon St., Charlotte, NC
(704) 350-5229 or carolinasgotart@gmail.com
www.carolinasgotart.com

May 14, 2015, 6:30 - 9:00 PM by invitation
"Local Color" Group Show presented by Kathy Southerland
Contact (704) 364-0809 or ksoutherland@carolina.rr.com
---
Projects
LEVINE CHILDREN'S HOSPITAL WORKSHOP ART PROJECT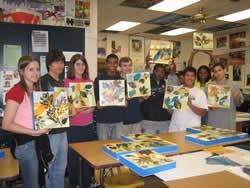 East Mecklenburg High School art students display completed collages.
Hodges Taylor Gallery and Community School of the Arts partnered in 2006 on behalf of the new Levine Children's Hospital to coordinate and select artwork for the hospital. Shug Lockett was chosen as one of several teaching artists to design and conduct a workshop to create artwork with local school students some of which would be chosen to exhibit in the new hospital.

Shug worked with high school students at East Mecklenburg High School teaching them the basics of stained tissue collage. Read More...


McCOLL CENTER FOR VISUAL ART AFFILIATE ARTIST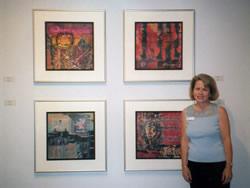 Shug in front of Signum series on display
at McColl Center.
McColl Center for Visual Art is a nationally acclaimed contemporary art center dedicated to connecting art and artists with the community. Located in a historic, neo-Gothic church in Uptown Charlotte, the Center houses nine artist studios and over 5,000 square feet of gallery space.

In 2003, Shug Lockett was selected as an Affiliate Artist and held a 4-month residency at the Center. While at the center, Shug worked on her Signum and Echoes from the Past series, which combine images from antique letter seals, historical photographs and letters with printed images and stained tissue papers.

Since her residency, Shug has served a term on the McColl Center Board of Directors and recently exhibited work at their Studio 12 event.


CELEBRATING THE LEGACY OF ROMARE BEARDEN: A JURIED ART EXHIBITION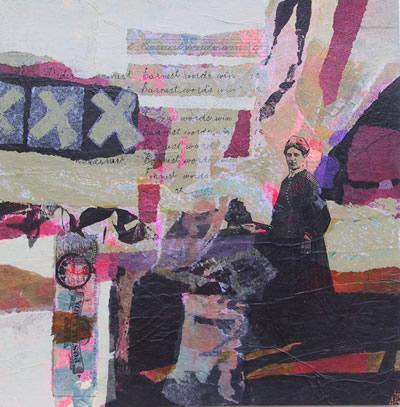 "Earnest Words", Collage on Paper, 12" x 12"
In 2002, the Mint Museum of Art and McColl Center for Visual Art co-sponsored a juried exhibition entitled Celebrating the Legacy of Romare Bearden: A Juried Art Exhibition. David Driscoll a noted collector, writer on African American art and professor emeritus at the University of Maryland, juried the Exhibit.

Fifty-six artists from North and South Carolina were selected from a field of 135 to exhibit their work at the Mint Museum of Art and Spirit Square. Shug was chosen to exhibit her collage entitled "Earnest Words" which incorporates an old family photograph and pages from a penmanship manual from the 1880's with stained tissue collage papers.
---
Past Exhibits and Shows
SOLO EXHIBITIONS
Rennolds Gallery, St. Catherine's School, Richmond, VA, 2007

d.o.c.s. Gallery, New Orleans, LA – April 2005

d.o.c.s. Gallery, New Orleans, LA - January 2003

Duke University Institute of the Arts, Durham, NC – October 2001 "Collage Studies – Exploring the Cruciform"

Flynn Gallery, Raleigh, NC – September 2001

d.o.c.s. Gallery, New Orleans, LA - February 2001

d.o.c.s. Gallery, New Orleans, LA – September 1999

GROUP EXHIBITIONS
McColl Center for Visual Art, Studio 14 Alumni Artists Exhibit, 2014

"Translations II" group show, Christ Church Art Gallery, Charlotte, NC 2014
"Through the Seasons: Charlotte's Greenways" presented by pARTners artist group
at RedSky Gallery, Charlotte, NC, 2013

McColl Center for Visual Art, Studio 12 Exhibit, 2012

"Translations" group show, Christ Church Art Gallery, Charlotte NC, 2012

"30 Small Works"; Gallery Up Rock Hill, SC, Summer 2008

First Frontier Collage Society – 7th Annual Exhibition, Austin, TX – Fall 2006

"Blues Exhibit"; Fredericksburg Center for Creative Arts, Fredericksburg, VA; March – April 2006

"Rural Voices & Visions"; Levine Museum of the New South, Charlotte, NC; April 2005

"20 x 20 x 20": A National Compact Competition; Louisiana State University, Union Art Gallery, Baton Rouge, LA; April 2004

"32nd Annual Competition for N. C. Artists", Fayetteville Museum of Art, Fayetteville, NC; March 2004

"Through Women's Eyes, By Women's Hands; The Women's Center 20th Annual Show, Chapel Hill, NC; February 2004

McColl Center for Visual Art, Affiliate Artists Group show 2003

"Celebrating the Legacy of Romare Bearden: A Juried Exhibition"; Mint Museum of Art, Charlotte, NC, 2002